The IRA Effect: Accelerating the Decarbonization Journey
PANEL DISCUSSION
The Inflation Reduction Act (IRA) is catapulting the U.S. to be the biggest magnet for investments in a clean energy economy. The law dramatically increases the incentive for businesses to lead the development and deployment of key technologies such as hydrogen and carbon capture, utilization and storage (CCUS), which will be vital to achieving net zero goals – especially in hard-to-abate sectors.
Watch as leaders from global corporations, cleantech startups, academia, and venture capital come together to discuss the IRA and its impact on decarbonization efforts in the U.S. and globally.
What Leading Experts Are Saying:
ARTICLE
The Inflation Reduction Act is Driving a Clean Tech Industrial Revolution
Today's business leaders understand the IRA's imperative: to accelerate the energy transition through investment in clean energy, transport, and manufacturing. But questions remain about how to maximize this moment by translating the complex law into action. A panel of experts outlines the opportunities and challenges for business.
PANEL DISCUSSION
The Business of Carbon Management
Transitioning the global economy to a low-carbon energy system will require a range of solutions—carbon capture, hydrogen, renewable power generation. While many of these are on the cusp of wide-scale deployment, uncertainties remain in cost and potential commercial strategies as firms look to create sustainable businesses out of their efforts. How will these new low-carbon value chains evolve? What new commercial models will arise, and who is best positioned to capture them? What policies and incentives can accelerate their advancement, and how can emerging sources of capital catalyze them?
WATCH VIDEO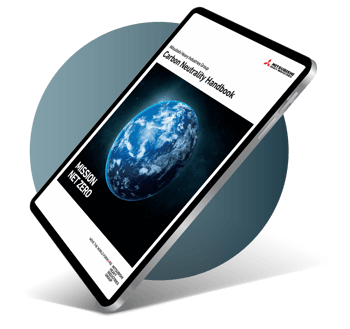 EBOOK
MHI Group's Carbon Neutrality Handbook
View our free eBook that introduces MHI Group's efforts to help reduce CO2 emissions around the world leveraging innovative technologies, vast expertise, and collaboration with strategic partners.
MHI GROUP
Accelerating the Energy Transition to Meet Critical Decarbonization Targets
Collaboration is critical to the IRA and the energy transition, and Mitsubishi Heavy Industries (MHI) is at the forefront. The company is one of the world's leading industrial groups spanning energy, smart infrastructure, industrial machinery, aerospace and defense. Through its Mission Net Zero commitment, MHI will achieve net zero CO2 emissions throughout its operations and entire value chain by 2040.
In collaboration with corporations, startups, industry organizations, and academia, MHI is developing some of the largest renewable energy projects in the U.S. and around the world:
MHI, which has been advancing carbon capture technology since 1990, has supported more than a dozen commercial projects globally and was recently deployed in four of the eight projects selected for Front-End Engineering Design (FEED) studies by the DOE Office of Clean Energy Demonstrations. Additionally, MHI was recently announced as the lead technology provider for Project Tundra - a bold initiative to build one of the world's largest carbon capture facilities, designed to capture up to 4 million metric tons of CO2 produced at the Milton R. Young Station in North Dakota.


MHI is also leading the development of hydrogen production and storage. The Advanced Clean Energy Storage Hub, a joint venture between Mitsubishi Power Americas, an MHI Group Company, and Magnum Development is currently under construction in Delta, Utah. The Advanced Clean Energy Storage Hub is a large-scale, world-class clean hydrogen facility designed to produce, store, and deliver green hydrogen to the Western U.S. The hub will initially be designed to convert 220 MW of renewable energy into almost 100 tonnes per day of green hydrogen, which will then be stored in two massive salt caverns, capable of storing more than 300 GWh of dispatchable clean energy.